Snow Lion Media is adept at providing solutions to all your audio requirements, specialising in the production of podcasts. This can be anything from a simple one-to-one interview, to a full length broadcast with engaging narrative, sound design and theme music. Contact us for a list of options and prices.
Snow Lion Media's podcast series for ACCA's trainee accountants averages 50,000 downloads per month globally. The podcasts are a great source of learning for students and receive excellent responses. We have also produced several series for ACCA members which explore some of the latest reports from the Professional Insights team. Recent projects include the Industries of the Future series, hosted by ACCA's Head of Sustainability, Jimmy Greer.
Here are some recent podcast episodes: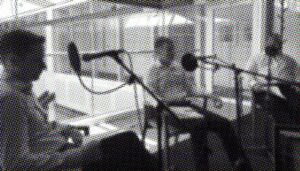 If you have an idea for a podcast you would like to make, we can bring our portable studio to you, as well as provide creative direction and coaching on presentation. This service is also available remotely; whole interviews can be recorded via Zoom, or we can mix this together with material recorded face to face.
Alternatively if you would rather not present your own material, we offer an all-in-one podcast recording package, delivered by a professional voiceover artist and presenter, which can also include interviewing you or your subject. Finally we can help you with creating and managing a branded channel and making sure you get the best possible exposure for your content.